Today we are going to talk about Top 5 Best Multispeciality Hospitals In Surat Gujarat.
If you are in Surat, or nearby city, then you need to know about all the Hospitals that are there for your service. Whether you have an emergency or are just looking for a place to get treated you will need a list of hospitals present in the city.
I was diagnosed with Intestine Infection, Kiran Hospital Treated Me very well, All the Staff are Highly Trained even the watchmen compared to all Other Hospitals in Surat. Mostly all other hospitals smell like Medicine but the cleanliness in Kiran Hospital is Excellent. Everything is neat and Clean. It's the best hospital in Surat According to me. All the workers, employess and Doctors are Polite. The hospital was inaugurated by the Indian Prime Minister Narendra Modi on 17 April 2017.



Here's the list of Top 5 Hospitals in Surat:
1. Kiran MULTISPECIALITY Hospital
Address: Vasta Devdi Road, near Sumul Dairy Road, Katargam, Surat, Gujarat 395004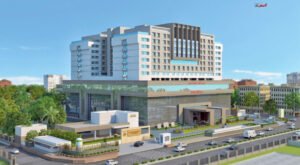 Kiran Multi Super Speciality Hospital & Research Center is one of the best treatment providing hospital since 2017. They proudly declare their commitment to meet and exceed the community's requirements and expectations by delivering coordinated. The hospital specialist doctors are highly skilled and well-experienced professions. They have all kind of specialist to care sufficiently and diagnose diseases. They afford compassionate and high-quality health care services at an affordable cost. The hospital pledged to give quality service with the latest medical technology and set exceptional health care standards through professionally competent doctors and staff in all medical speciality departments. Kiran Hospital is one of the first hospitals from India to get appreciated for World-Class Healthcare services in Bariatric Surgery for Weight Loss by Bariatric Times.
It has a State of the Art Multi Super specialty facility and Research Centre
One of the most modern multi-specialty tertiary care hospitals offering integrated services under one roof
Few of the many hospitals from India to get appreciated for World-Class Healthcare services in the field of Bariatric Surgery
It has 2 ACLS (Advance Cardiac Life Support) and 1 BLS (Basic Life Support) Ambulances, for 24/7
113 bed CCU with the latest multipara monitors.
2. SHALBY MULTISPECIALITY HOSPITAL
Address: Nr. Navyug College, Rander Rd, Adajan, Surat, Gujarat 395009
Shalby Hospital is the leading and well-practised clinic in Surat. They believe in making available high quality, expert healthcare to people worldwide by inventing, adapting and imbibing the world's best technologies and practices. The hospital provides total health care under one roof at most affordable costs has been their passion which helped them establish a chain of multi-speciality hospitals and vibrant OPD centres across India and in many parts of the world. Shalby has a dedicated team of super specialists gives the best possible care and consultants providing medical care. They treat you as a kind and supports you to rectify if any risk factor. Their mission is providing enduring health solutions, and their hospital chain built around this philosophy shall outlive the expectations of their valued patients, worldwide. Shalby offers 24 hours emergency service
Has 24 OPDs and 7 state-of-the-art Operation Theatres
It is multi-specialty tertiary hospital chain, equipped with advanced technologies
The first hospital in South Gujarat to have most advanced Thulium Laser for minimally invasive Prostate and Stone
Excels in range of specialties such as Joint Replacement Surgery, Critical Care & Trauma, and such more
3. SUNSHINE GLOBAL HOSPITAL
Address: Dumas Rd, beside Big Bazar, Piplod, Surat, Gujarat 395007
Sunshine Global Hospital is the most prominent multispecialty hospital in Surat. The hospital doctors are more expertise that achieves the best result. They have advanced equipment like the Toshiba Aquilion 16 slice CT Scan Machine. GE Healthcare Logique P-6 USG Machine. The clinical room has satellite channels, TV and safety call bells. The team of doctors provides the best haematology, biochemistry, serology, cytopathology, histopathology services. They have been doing surgery among all kind of conditions with clean and hygiene. The hospital offers extended services over the worldwide people. They have convenient ambulance service that may help when you suffer from critical illness. The hospital pharmacy provides medications, other health care products, relevant information, professional services, and helping people and society.
Best Multispecilty Hospital 2016-2017- by Elets India
SPECIALITY:
Ct Scanners, X-Ray Facilities, Pharmacy Stores, Operation Theatres, Icu Beds, 24 Hour Emergency Service, Cardiology, Plastic Surgery, Endocrinology, Pathology, nutrition, Orthopedic, Radiology, Oncology, Bariatric, Dentistry, Microbiology, Dermatology, Gastroenterology, Anesthesiology & G.I and Bariatric Surgery



4. Mahavir Hospital
Address: Ring Rd, Opposite Jivan Bharti School, Nanpura, Surat, Gujarat 395001
Since 1978, Mahavir Hospital is providing quality health care solutions in Gujarat. Their aim is to provide treatment at competitive prices, so that people; irrespective of their social and financial backgrounds, can have health services at their fingertips. They offer state of the art infrastructure and equipment for multi-specialty treatment.
Salient Features
First Diagnostic center to introduce digital CT scan in Surat. Currently it has Discovery CT750 HD 256 slice, first of its kind in Gujarat
They have 110 beds in the Cardiac Institute, 8 beds in the Coronary Medical Intensive Care and 9 beds in Post Surgical Intensive Care
Two fully equipped operation theaters, 2 catheterization labs with the latest technology, computerized round the clock Pathology Lab, 4 beds in the Emergency Department, and out patient department services.
4 hi-tech Operation Theaters, 42 bed critical care unit with modern ventilators, 3 bed burns unit, dialysis unit, AC as well as non AC rooms
1.5 Tesla MRI Machine
5. BAPS Pramukh Swami Hospital
Address: Shri Pramukh Swami Maharaj Marg,
Adajan Char Rasta, Surat – 9
BAPS Pramukh Swami Hospital is a multi specialty, state-of-the art health care institution offering modern treatments at economical prices. They have an impressive line up of dedicated as well as visiting doctors. They seek to offer medical help to people of different caste, creed and religion.
Salient Features
Expansive 1,30,000 sq. ft campus with 150 beds
7 high end operation theaters with HEPA filters, strict sterilization and surgical procedures to achieve zero infection rate
Intensive Cardiac Care Unit with non-invasive blood pressure monitoring system,ventilation system and round the clock attendance of M.D. Physician
Major and minor plastic surgeries, as well as micro surgeries performed
Well equipped Neonatal Intensive Care Unit (NICU) and Pediatric Intensive Care Unit(PICU)
Latest technology in ENT surgery, Dentistry and Ophthalmology
Oncology surgery by experts in the field. Support for terminally ill patients