Creating a song isn't easy, it is a sophisticated art. A deeply feeling poet birthing heartfelt lines, An emotional composer blending his heart with the lines, and finally a magical singer offering his soul and breath to artistically present the piece of art. It's hard to imagine a single entity achieving all of that all by itself. Incredible and unbelievable as it may sound, it is a reality that is going to be probe today.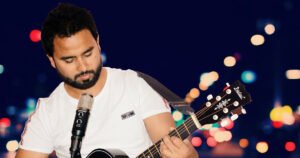 Today many new artists are getting many opportunities due to youtube and digital medium, which they could not get earlier. Today if you have talent then you have definitely succeeded. Here we will know about one such musical artist, Ovais Singstar, who made Youtube a medium to get himself into the public. Ovais Singstar is a multi-talented man from Karachi, Pakistan, the best cover singer, songwriter, programmer, composer, and YouTuber.
Ovais Singstar a Pakistani Music Composer, Singer, and Song-Writer. He was born on (21 October 1993) in the city of lights Karachi. Ovais was known for his inclination towards arts and sports from childhood days. Being Passionate about Music, He is also a Graphic Designer as well working in Karachi. Pursuing his Music, Job, And Career.
Ovais studies in parts of Pakistan to become a Designer by the day and a passionate singer by the night. Ovais remembers his music journey as a spark that was lit during his School days. This was where he met like-minded people and formed a Band called "SR Production" As the name suggests, his organization aims to align the human soul to the artistic world. This was also the time he started playing with the bands and gained popularity.
In his Initial days, He won a music competition called "The Voice" from his School and became the first gold medalist in the College and college that gives him confidence and power and he started searching for raw and new talents from the colleges and made his Band and named it "SR" which is particularly the name came from his Production house – "SR Production" from which he started doing Live shows into the College and getting Popular among the people on a broader level. The life from a normal School going boy to a Popular Musician and Singer Star of the College. Everything started changing and he started getting his Live shows and that becoming more popular. Also, there is a lot of hard work and struggle behind this, but he never gave up on his passion.
On the other hand, He is really popular on his social media handles like especially on Instagram, Facebook, and etc. Where people from the Industry follow him and support him for his music they loved.