Fahaad Bhat – A peace loving person whose only passion is to uplift the downtrodden, underprivileged, the financially weak people of society and give them a life of dignity.
THIS IS A SHORT INTRODUCTION OF MR FAHAAD BHAT WHO IS UNDERPINNED BY THEORIES OF SOCIAL SCIENCE AND GUIDED BY THE PRINCIPLES OF SOCIAL JUSTICE, HUMAN RIGHTS, COLLECTIVE RESPONSIBILITY AND RESPECT FOR DIVERSITY.
Being a SOCIAL WORKER is a highly challenging career but a rewarding one, presenting one of the truest opportunities to make a difference in the lives of others. "MY START-UP IS TO START THE REAL YOU" It is said that we make a living by what we get but I believe that we can make a life by what we give. I tend to the wounds of people crucified by circumstances and I carry hope and happiness in my briefcase and share my own scars for street creed. Everyone has a purpose in life, a unique gift or special talent to give to others and when i blend this unique talent with service to others, I experience the ecstasy and exultation of my own spirit which is the ultimate goal of all goals.
A GLIMPSE into my life as a "Social Activist/Worker"
A Man blessed with kind and loving heart Fahaad's selfless services towards the society is well known. He seizes every opportunity to help the needy, the most vulnerable strata of society who have been deprived of their very basic physiological needs and leaves no stone unturned to help them.
Born in the midst of unending chaos restlessness, deprivation, and violation of human rights, poverty, helplessness and misery. Fahaad witnessed the harsh realities of life at a very young age. In this he found his passion his mission to live up to people not the cause. Gaining his law degree empowered him to advocate for the voices of innocent that has gone unheard. Fahaad passion is to endorse freedom of choice and ability to equally share abundant resources existent especially in Kashmir. Fahaad has shown his best caliber in his past activities taking part in fight for hunger and youth movements for peace of Kashmir. He has directed groups to lead minorities out of poverty by delivering life sustaining services that are in use all over the world. Fahaad believes extreme poverty is solvable if we take the right lever and strategy.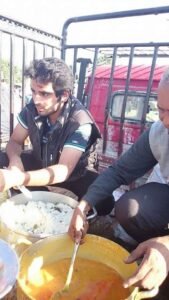 "LET US HOLD HANDS AND BECOME ONE"